SYRACUSE, N.Y. – Greg O'Polka had only a few heartbeats left.
He didn't know it the morning of Aug. 10 when the 54-year-old went to work out at CrossFit Syracuse on Erie Boulevard East around 9:30 a.m. He tied the laces on his sneakers and began a warm-up run along nearby Thompson Road. That's the last thing he remembers.
When he woke up the next day in the hospital, he was shocked to learn how close he came to dying.
O'Polka, a man who works out at least five times a week and eats healthy, had suffered a massive heart attack. Doctors told him later the attack he had is nicknamed the "widow maker."
More than 94 percent of people who suffer cardiac arrest outside of a hospital die, according to a 2015 report from the National Academies of Science, Engineering and Medicine.
So how did he survive and fully recover? Everything had to go exactly right.
Three nurses happened to go to the workout that morning. Two of them had never been to that gym before. One of them was exhausted after an overnight shift and had almost convinced the other two not to go.
The trio ultimately decided to go to the gym. That was just one of several lucky breaks that saved O'Polka's life.
A minuscule piece of plaque swimming in O'Polka's veins happened to reach his heart, fully clogging an artery, just when he happened to be within a few hundred yards of the nurses. It didn't happen a few minutes beforehand when he was driving his motorcycle or a few minutes later when the nurses would have left the gym after their 8:30 a.m. workout.
One of the nurses had the foresight to grab an automatic external defibrillator as she sprinted out the door after hearing a man had collapsed. All witnesses knew was that he fell and was unconscious, bleeding from his face.
And O'Polka had only just recovered from a hip injury, which meant he had recently been doing light workouts at his home or at Planet Fitness gym near his home. He'd only been back at the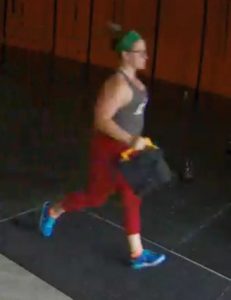 CrossFit gym recently.
Now discharged from the hospital, O'Polka keeps realizing how it might have gone wrong.
"I keep hearing little things that just send chills up my spine. How much more perfect could it have been?" O'Polka said. "I've been told by the doctors that it was just a ticking time bomb."
The small-business owner from Cicero who has four adult children was discharged after five days.
O'Polka and the nurses – Lindsay Watkins, Katheryn Dunn and Katharine Freeborn – described a dramatic and almost fatal medical episode in interviews with Syracuse.com | The Post-Standard.
"This is the most rewarding thing that has ever happened to me in my line of work," Dunn said. "To have someone (live) when you know the incidence of survival is so low is just absolutely the best thing."
The three nurses all worked together at Upstate University Hospital. They worked in high-pressure emergency situations, including for the "SWAT" team – the nurses who respond first when a patient's condition suddenly deteriorates.
"We've been in a lot of emergencies before, so what to do was kind of unspoken," Freeborn said. "We all just sort of fell into our roles."
The nurses said O'Polka's survival is a reminder that time is of the essence during heart attacks, so everyone should make sure they note the existence of defibrillators wherever they go and should make sure they know CPR. They recommended everyone review what to do in cases of cardiac arrest.
O'Polka said those who know him well know he's extremely healthy. He said he exercises at least five times a week, in addition to walking his dog twice a day. He's never smoked, rarely drinks and eats a diet of lean meats and vegetables, skipping pasta and white rice, he said.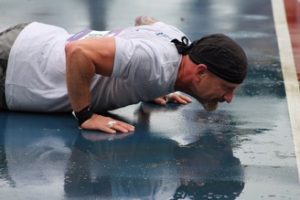 But he effectively dropped dead that morning on Thompson Road during the 9:30 a.m. workout after he went into cardiac arrest.
He fell flat on his face, causing a deep scrape to his forehead. When the nurses found him, he looked pale and cold. He had stopped breathing. The nurses knew each second was precious.
Doctors told him he suffered the heart attack when that final piece of plaque reached his left anterior descending artery, fully clogging the vein that provides blood to the entire front wall and part of the side wall of the heart.
When he collapsed, a fellow athlete sprinted 500 feet or so to the gym and called out for O'Polka's wife, Dawn, who had just left from the 8:30 a.m. workout.
Sensing the possible gravity of the situation, the three nurses ran toward the exit. Watkins spotted the bright, yellow defibrillator kit and sprinted to pick it.
Surveillance video captured her running out of the gym with it in hand.
The nurses didn't have to run to Thompson Road – another gym member had a car and drove them to O'Polka. They arrived to see him lying on the ground, receiving CPR from others who started the warm-up run with him. The trio of nurses quickly took over CPR.
Watkins placed the AED on O'Polka's chest. It determined that O'Polka had no pulse and advised her to give him a shock. She told her coworkers to take their hands off him, and the device sent an electrical charge to try to restart his heart.
After one shock, the device detected a pulse. O'Polka had been brought back to life.
The nurses rolled O'Polka onto his side to help him breathe. Soon after, an ambulance arrived to take him to Upstate University Hospital.
O'Polka began the run at 10:02 a.m. His heart attack occurred soon after, and the person who ran back to the gym made it there by 10:06 a.m.
He was on his way in the ambulance by 10:13 a.m., according to O'Polka's wife, who reviewed the surveillance video at the gym.
"It has never, ever worked that well," said Watkins, one of the nurses. "You just don't have that."
Greg O'Polka said the nurses are his "angels," and he continues to have chills about how easily he could have died.
As the ambulance sped away, the trio were still concerned about O'Polka's well-being. Only when they spoke to him the next day did they believe he fully recovered, they said.
Still, they had acted quickly and efficiently. Their adrenaline was pumping, and they knew they had done something amazing, they said.
They went to get bagels and afterward, Freeborn, who had been awake and working since 7:30 p.m. the night before, finally went to sleep.