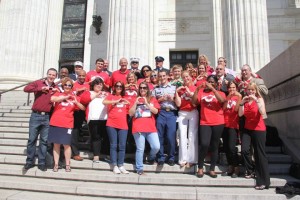 Since Louis' tragic passing in 2000, it has been the Foundation's mission to raise awareness of the importance of having automated external defibrillators (AEDs) at schools and sporting events. All 50 states have enacted defibrillator laws or regulations. Several laws have been passed as a result of the Louis J. Acompora Memorial Foundation's efforts.
New York State AED Legislation
The following list summarizes legislation enacted by New York State regarding AEDs:
Louis' Law was implemented by Governor George Pataki on May 7, 2002. This law mandates that all public schools in New York State be equipped with AEDs in their buildings and at all sporting events.
NEW YORK IS THE 26TH STATE TO REQUIRE CPR/AED INSTRUCTION
At the June 2015 meeting, the Board of Regents approved an amendment of the Commissioner's regulations to require hands-only instruction in cardiopulmonary resuscitation (CPR) and instruction in the use of automated external defibrillators (AEDs) in senior high schools. During the June meeting, it was anticipated that the proposed amendment would be presented for adoption at the September 16-17, 2015 Regents meeting, after the publication of a Notice of Proposed Rule Making in the State Register and expiration of the 45-day public comment period prescribed for State agency rulemakings. At the September meeting, the amendment was approved and will take effect on October 7, 2015.
The regulation states that students in a senior high school must be provided with instruction in hands-only cardiopulmonary resuscitation and the use of an automated external defibrillator. The standards for this instruction should be based on a nationally recognized instructional program that utilizes the most current guidelines issued by the American Heart Association or equivalent organization. The instruction should be designed to:
1. have students recognize the signs of a possible cardiac arrest and to call 911,
2. provide an opportunity to demonstrate compressions necessary to perform hands-only CPR, and
3. provide an awareness in the use of the AED.
The American Heart Association and the American Red Cross have established a program for instruction in CPR and awareness in the use of AEDs that can be delivered in one or two class periods. The instruction provided pursuant to Education Law §804-a, the instruction of hands-only CPR, does not require the instructor to be an authorized CPR/AED instructor because such hands-only instruction will not result in a course completion card. To meet this requirement, schools may choose from a variety of low cost and no-cost options that provide hands-only CPR instruction.
Pursuant to the provisions of Education Law §804-c and 804-d, where approved by local school boards, school districts may continue to offer comprehensive CPR certification instruction at their discretion. However, in cases where districts do not offer such a course, all high school students will be required to receive instruction in hands-only CPR and the use of AEDs
Facts about SCA and CPR
Sudden Cardiac Arrest (SCA)
EMS treats nearly 300,000 victims of out-of-hospital sudden cardiac arrest each year in the U.S.
Less than 8 percent of people who suffer cardiac arrest outside the hospital survive to make it home from the hospital.
Sudden cardiac arrest can happen to anyone at any time. Many victims appear healthy with no known heart disease or other risk factors.
Sudden cardiac arrest is not the same as a heart attack. Sudden cardiac arrest occurs when electrical impulses in the heart become rapid or chaotic, which causes the heart to suddenly stop beating. A heart attack occurs when the blood supply to part of the heart muscle is blocked. A heart attack may cause cardiac arrest.
Cardiopulmonary Resuscitation (CPR)
Less than one-third of out-of-hospital sudden cardiac arrest victims receive bystander CPR.
Effective bystander CPR, provided immediately after sudden cardiac arrest, can double or triple a victim's chance of survival.
Chest compressions should be provided at a rate of at least 100 compressions per minute – the same rhythm as the beat of the Bee Gee's song, "Stayin' Alive."
Most students age 13 or older have the physical size and strength necessary to deliver effective chest compressions. The ability to assess a medical emergency and call 911 can be taught to younger students.